---
Sustainable sailbags
Why do we need sustainable sailbags? They have sailed through storms and sunshine, dark and lagoon blue waters, but one day they become unfit, obsolete or dangerous, and we decide we need to change gear. After years of good and loyal duty, they are sentenced for eternity in a landfill… Here enters Coup d'vent to save and upcycle their durable materials into something useful: bags! All our bags are sewn from reformed sails and kites. Thanks to your support, they will embark on new adventures! A special occasion? A specific number? Contact us to place a custom order.
---
We are currently in the process of moving our workshop. Products from the shop will be unavailable for a few months. Thank you for your patience and apologies for any inconvenience.
Sold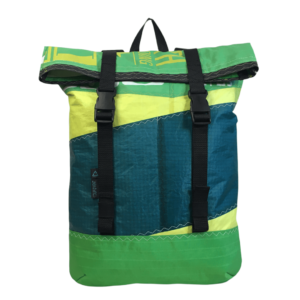 Backpack Koumac – 015
Koumac, backpack made of upcyled kite & yacht sail (Koumac no.15).
---
One of a kind
100 % kite (outside) and yacht sail (inside)
Colours: Green, yellow, blue-grey, white
Made in France (Brittany)
Size M (about 46 x 38 x 14 cm)
Lightweight (about 350 g)
Adjustable straps
Closes with velcro and clips
One flat pocket inside


---
€

79.00
Read more